Today Apple has debuted 31 new emoji designs within its newly-released iOS 16.4 update, finally bringing a plain Pink Heart emoji to iPhones, iPads, and all other Apple devices across the world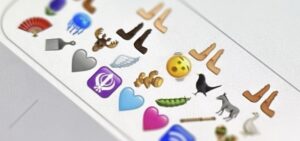 Each of the 31 new emojis included within iOS 16.4 are from Unicode's Emoji 15.0 recommendations, which were made in September of last year.
These emoji designs were first previewed midway through February this year, within the first beta release of iOS 16.4. Beta updates are made accessible to those signed up for the Apple Developer Program.
Unlike in last year's Apple emoji update, none of the initially revealed emoji designs have undergone revisions ahead of their official release today.
Last year the 🧌 Troll emoji was revised during the iOS 15.4 beta period, while previous beta testing periods featured revisions (or attempted revisions) to the 🥯 Bagel and 🍑 Peach emojis.
Additionally, no previously released emoji designs have been revised in iOS 16.4.
Other new emoji span categories like food and drink, activity, objects, and symbols and include a hyacinth, pea pod, ginger, folding hand fan, hair pick, flute, maracas, and Khanda and wireless symbols.
While these emoji represent how they'll look on Apple Device Emoji 15.0 will roll out to all supported platforms sometime in early 2023.
If you want to play with the emoji now, you'll have to download the iOS 16.4 beta 1 release, which is available through Apple's Developer Program. The final public release is expected to arrive sometime in March or April 2023.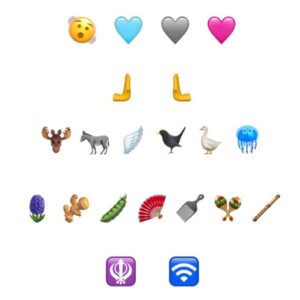 New
Although iOS 16.4 only includes 31 new emojis, there are emoji additions across each of the major emoji categories.
Firstly, within 😃 Smileys & People there is one new smiley face and two new complimentary hand gestures (both of which support the standard five skin tone modifier options).
Notably, while the designs for each of the skin tone options for 🫸 Rightwards Pushing Hand and 🫷 Leftwards Pushing Hand are visible on Apple devices, the current Apple emoji keyboard does not allow for these skin tone options to be accessed through the usual press-and-hold selection method. This is expected to be resolved in a subsequent iOS update.
The 💕 Symbols category has also received five new additions, three of which are colourful new heart emojis.
As discussed in our coverage of the first iOS 16.4 beta, the plain 🩷 Pink Heart emoji has been a popular request for quite some time and, alongside 🩵 Light Blue Heart and 🩶 Grey Heart, closes some notable gaps within the heart emoji colour spectrum.
Rounding out the new additions in 💕 Symbols category are the Khanda, the symbol of the Sikh faith, and a 🛜 Wireless internet connection symbol.
The 🐻 Animals & Nature has received the largest new additions in today's iOS 16.4 release, with six new additions. However, the 🍔 Food & Drink category has also gotten two new emojis that straddle the line between nature and foodstuff, namely a 🫛 Pea Pod and the root from a 🫚 Ginger plant.
Finally, there are two new additions in both the ⚽ Activity and 💡 Objects categories – two musical instruments (a 🪈 Flute and 🪇 Maracas) and two appearance-focused items (a 🪮 Hair Pick and a 🪭 Folding Hand Fan).
📲 Release
iOS 16.4 is available now as a free software update for the following Apple devices:
iPhone 14 / 14 Plus / 13 Pro / 13 Pro Max
iPhone 13 / 13 Mini / 13 Pro / 13 Pro Max
iPhone 12 / 12 Mini/ 12 Pro / 12 Pro Max
iPhone 11 / 11 Pro / 11 Pro Max
iPhone XS / XS Max
iPhone X / XR
iPhone 8 / 8 Plus
iPhone SE (2nd generation & 3rd generation)
The same 31 new emojis are also included as part of iPadOS 16.4, tvOS 16.4, watchOS 9.4, and macOS 13.3.